Weight Loss / Fat Loss – "Loss" of fat only, that's the desired goal, not just loss!
Loss – means Destruction : the state of being destroyed
NOTE: Important non-considered fact, programs should not be "weight loss," it needs to be "FAT LOSS!" Many programs just look for loss in weight, YET if the program in question is not accurately tested by N.I.R. body composition or water weighing, the loss could be lean body mass or muscle! This loss in lean can slow the metabolism slowing progress!
Fat loss when done correctly, has no hunger, no cravings, and yet still improves health and physical performance which is essential for the competitive athlete! It is possible with adequate facts and correct applications to gain lean muscle while losing only fat! Our programs test and prove all results, as well as teaching for a lifetime of success.
All our programs including fat loss are "Diabetic Safe," (physician endorsed)!  Most clients can have an expectation of losing about a pant or dress size every two, to three weeks, when directions are followed! Due to our fast, consistent gains of lean muscle, fat is in turn reduced faster, due to metabolism increases from the lean gains, which require maintenance!
Lose it once, lose it right, and you can lose it for life!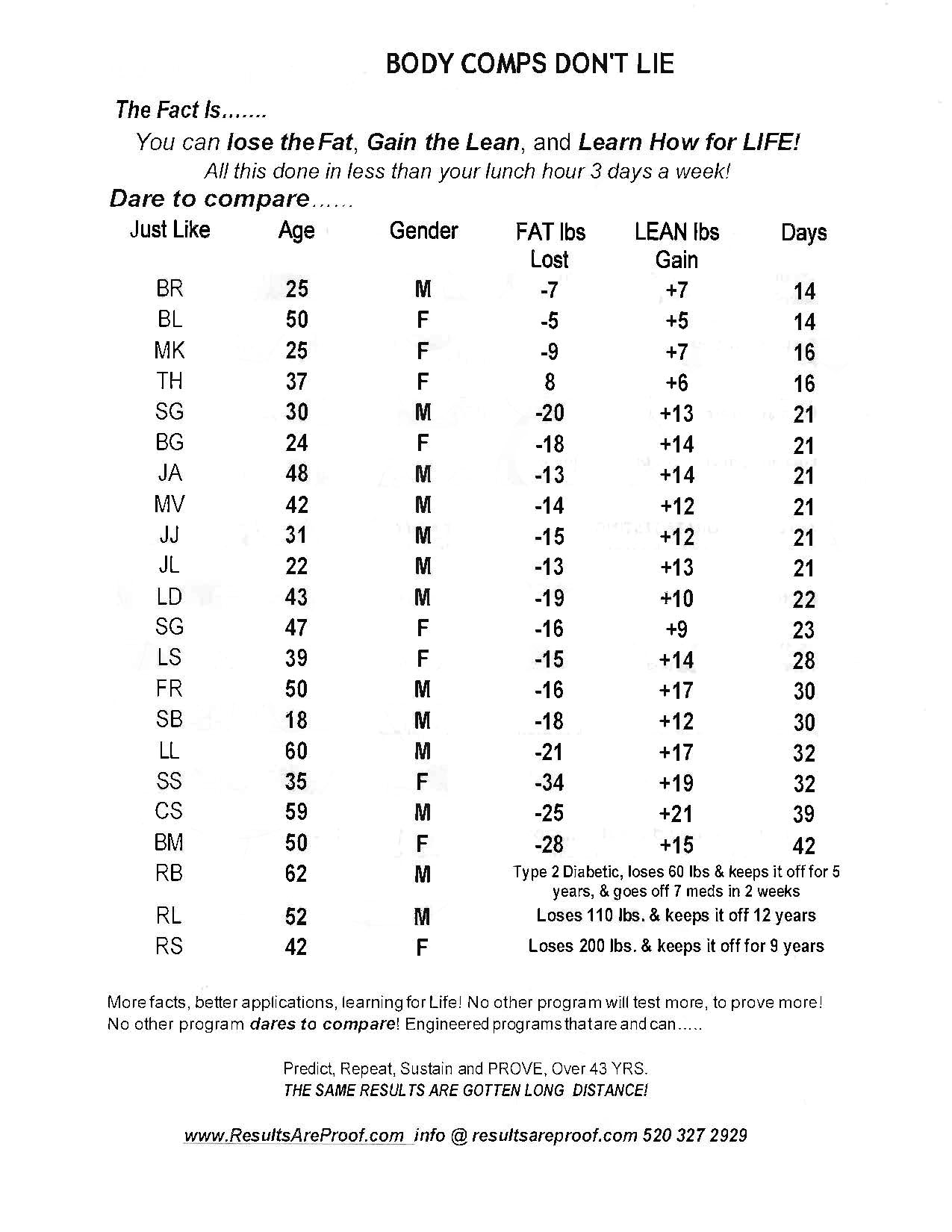 PRICE POINT JUSTIFICATION
I believe this should be "the major point" of client consideration…
THE BITTERNESS OF POOR QUALITY REMAINS LONG AFTER
THE SWEETNESS OF LOW PRICE IS FORGOTTEN!
This is "why we charge a little more" because what we teach and deliver
GIVES LIFE, and EXTENDS A LIFETIME….!!!
WEIGHT LOSS–THE LOSE IT ONCE -­ LOSE IT FOR LIFE.
We all have heard it over and over, about the lose and gain game!
Well, it is a game, at least for those who are trying to CAPITALIZE on the game! It is not a game though for the one genuinely wanting the weight gone and to stay gone! For over 40 years, we have been helping people lose 10, 20, 200 pounds, and more! Long-­‐term weight loss is a REALITY, NOW! We have clients who have lost and keep it off, and we do know why those clients were successful long term.
Why? There are several reasons, and we discuss those here to a point, as time would dictate a lengthy session, which for more we can be approached to address later!
First and most importantly, the client has to be of a TRUE desire, deeply so, and this is THE KEY ingredient!
Next, the program must be COMPLETE! WHAT DOES THAT MEAN? The program must be fact-based, with WORKING KNOWLEDGE of not just metabolism, but the REACTIVE things the body does when everything is perfect and not perfect! When a person takes the weight off, there needs to be an UNDERSTANDING OF EACH POINT that brings these results! Having an UNDERSTANDING OF WHY, WHAT, and HOW gives a person a VALUE, a WORTH to everything being done or not done!
This UNDERSTANDING or VALUE to each point creates a MAJOR REASON what, how, and why, so the person learning KNOWS they are IN CONTROL of their progress!
So facts, understanding the applications, the why, the what and the how creates A LIFESTYLE! WE HAVE THE FOLLOWING AS JUST A FEW EXAMPLES
R. B. Age 61 Business Owner type 2 diabetic. Goes off 7 meds in 2 ½ weeks, Loses 60 lbs. keeps it off 9+ years
R. L. Age 51 Business Owner pre-diabetic loses 110 lbs. Keeps it off 14 years.
R. S. Age 40 Business Owner loses 200 lbs. keeps it off 9+ years
OUR SERVICES ARE THE "LONG TERM" WEIGHT LOSS SOLUTION MEDICAL WEIGHT LOSS, whether pharmaceutical or surgical, is the same problem down the road! Why, because there has been no association of what, why, and how! This is the same problem when regular weight loss programs are utilized! So facts, plus understanding, plus support to re-­educate, and re-­evaluate, and re-­motivate are all essential!
WE ARE THE LONG TERM WEIGHT LOSS ANSWER… COMPARE! WHY IT WORKS We "ENGINEER Programs," and can Predict, Repeat, Sustain results, and they are measured, tested, proven, for over 40+yrs! We fix broken programs! That's why our name and website is RESULTSAREPROOF.COM.
Contact us Today for a Free First Hour.
First Time Free Consultation
FAT: WHY IT GOES ON AND HOW TO GET IT OFF
The Balance Sheet
THE BALANCE SHEET                                   
FAT: WHY IT GOES ON AND HOW TO GET IT OFF
Fat is excess calories (measures of energy) stored on the body.  All food ingested has the opportunity to be utilized for current energy and repair demands or stored as fat for future energy needs.
PRIORITIES OF FOOD UTILIZATION
1)  Energy– warmth, movement, and brain function
2)  Repair– rebuild, repair tissues, and replenish reserves
3) Storage – fat reserves, stored energy for future demands FOOD MAKE-UP AND PRIORITY FOR USAGE
Carbohydrates: Energy – some are simple and quickly utilized, while others are complex and break down more slowly. Carbohydrate foods do sometimes contain limited (incomplete)proteins and can slightly assist in repair. However, they are prioritized as energy sources. The dietary makeup of carbohydrates should be 30% to 60% of the total calories.
Fats: Concentrated fuel – some are beneficial, some are harmful.  Itis important to note that the near-total elimination of fats can induce carbohydrate cravings. These cravings occur due to quicker drops in blood sugar levels. When more carbohydrates are ingested, there is an increased need for insulin response from the pancreas. This, in turn, stresses the pancreas and the adrenal, which can lead to hypoglycemia and other health complications.  A minimum of 2% of the day's total caloric intake must be unsaturated fats for optimum health.  The dietary makeup of all fats should be 20% to 30% of the total calories.
Protein: Repair and energy– complete proteins contain the proper balance for adequate repair and restoring reserves for the immune system and all protein tissues. Protein may be used as energy instead of replacement when the body's energy needs haven't been met. The dietary makeup of complete proteins should be 20% to 35% of the total calories.
NOTE: Lean tissue (muscle, etc.) requires oxygenation, repair, and energy. These processes increase the metabolism because of energy demands. Fat requires no maintenance.
BLOOD SUGAR LEVELS AND METABOLISM
Food type, food quantity, and frequency of meals are the three most important considerations affecting body composition.
Food types dictate how fast the foods are digested and utilized for energy or repair. Some energy foods will raise blood sugar (energy) levels too high, too quickly. This excess energy will be stored as added bodyfat.
Quantity of food is the equivalent of energy intake per meal and per day. Most people eat the amount of food it takes to feel full. Feeling full comes from an adequate rise in blood sugar.  This rise comes from food being digested, which takes varying amounts of time, depending on food type.
Frequency or timing of meals is essential in balancing blood sugar levels. If blood sugar levels are allowed to drop too low for too long, the body will react with the survival mechanism that slows the metabolism if you are feeling intake as possible for energy needs. The hunger sensation is a delayed response to low blood sugar levels. Too much food, too often, raises the blood sugar levels too high. This excess causes the body to store the extra calories as fat. This is referred to as storage mode. Balancing the blood sugar levels through proper meal timing is essential to regulating metabolism.
REDUCING EXCESS BODY FAT
Exercise is an essential factor in the reduction of body fat. There are two types of exercise to consider: cardiovascular and resistance (weight) training. The common perception is that cardiovascular exercise is the most efficient way to burn fat. However, adequately performed progressive resistance training can add one or more pounds of lean body tissue (muscle) per week. Each pound of added lean mass burns more than 50+ calories per day without added exercise.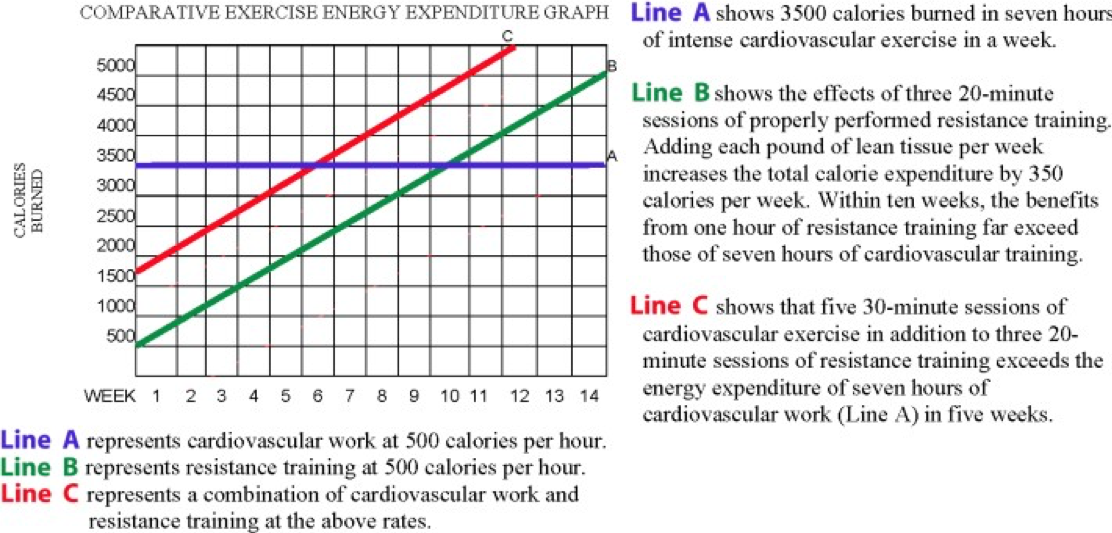 Correctly performed progressive resistance training will give cardiovascular benefits by increasing circulation and lowering the resting heart rate. Increased bone density,  metabolism, overall muscle tone,  and more resistance to injury are additional benefits of resistance training. Cardiovascular exercise is neither the most effective nor efficient method to reduce body fat!
SIMPLE RULES TO SUCCESS
1)  Schedule regular eating times, i.e., 4 to 5 smaller meals
2)  Divide caloric intake evenly throughout the day
3)  Balance food types for energy and repair
4)  Avoid consuming large amounts of calorie-dense foods,i.e., dairy, starches, fruit juices, sauces, etc.
5)  Exercise effectively regularly
HOW TO EVALUATE A WEIGHT (FAT) LOSS PROGRAM
1)  The client should experience no hunger or cravings
2)  Body composition should be tested weekly to show lean is increasing while fat is decreasing
3)  Blood chemistry tests to check blood lipid levels, etc.
4)  Knowledge– gaining the understanding of how and why changes are taking place
REMEMBER:
•       If you are limiting food quantity, you are limiting nutrient quantity.
•       If you are exercising, you are increasing the body's nutrient demands.
•       Supplementation of minerals and vitamins is essential to ensure nutrient demands are met without excess calories being consumed.
IT'S NOT ALWAYS HOW MUCH YOU LOSE… IT'S WHAT YOU LOSE THAT MATTERS! FAT FACTS
•       One pound of fat equals 3500 calories or about 36 slices of whole-grain bread.
•       When a pound of fat is on the body, 3900 calories must be spent to get it off! You get 400 calories in interest.
•       Fat on the body cannot be spot reduced. Energy or fat stores are depleted on an overall basis.  This depletion starts at the ends of the body(head and toes) and works toward the mid-section.
•       When a fat cell is formed on the body, it can be deflated, but it never goes away!